How does the carpooling of Covoit'Ici work: for the passengers, it is free, as simple and practical as taking the bus!
When a passenger pulls up to the stop and makes a request, drivers are immediately notified of their presence via the app and lighted signs.
With the carpooling lines Covoit'ici of the valley of Kaysersberg, the journeys are offered for the passengers! And from Monday to Friday, from 4pm to 7pm, trips are guaranteed from Colmar! That is to say that if you are a passenger and you did not leave after 10 minutes, Covoit'Ici takes charge of an alternative solution for your routing. You don't have to pay anything and the assistance accompanies you until your departure!
New Stop : Colmar Gare
Since June 27, make your trips to and from Colmar Gare are free and guaranteed:
👉 Meet at the intersection of Avenue de la Liberté and the exit of the "Place du Capitaine Dreyfus" parking lot, on the West square, a 5-minute walk from the Gare!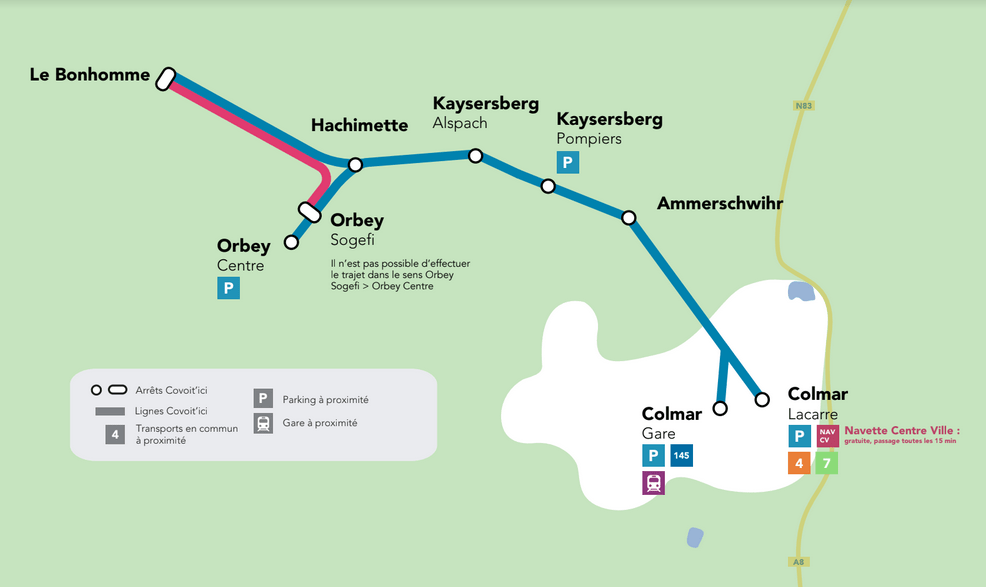 Join the community! Driver or passenger, take advantage of a civic-minded and non-binding way to travel. Covoit'ici is: economical, safe and reliable, practical and fast!