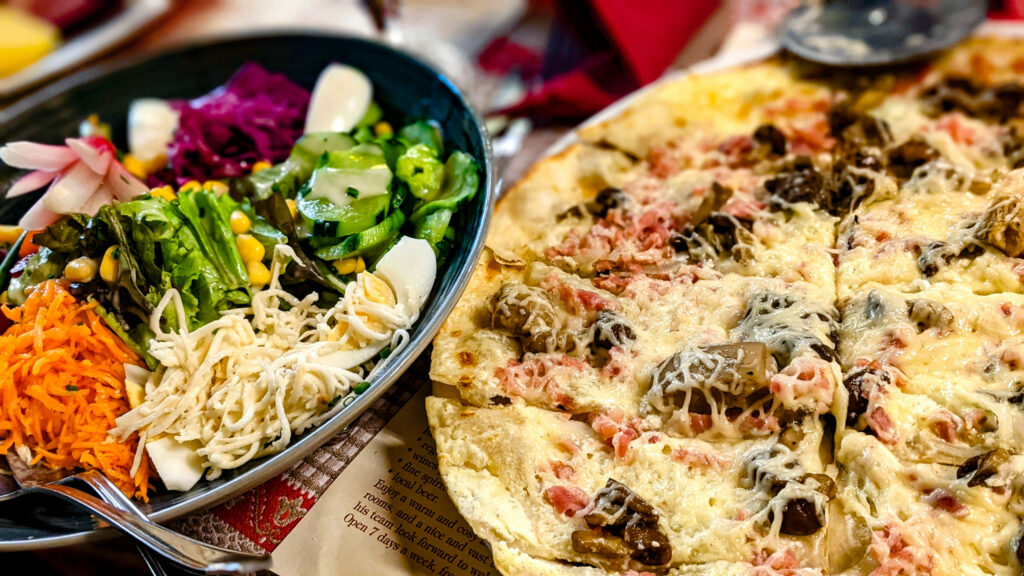 Like Alsace itself, Colmar's local cuisine blends French and German influences. If you feel like splurging, Colmar has 10 Michelin-starred restaurants, with the two-star JY's being the most impressive on the canal.
More discreet, La Soi and its delicious tarte flambée and the rustic Caveau Saint Pierre and on the terrace by the water for traditional Alsatian dishes. And save room for the incredible cakes from Gilg's Pastry Shop.
You will be able to taste not only the Alsatian specialities already described by us, but also discover the coq au riesling, the kougelhopf, the matelote du Rhin or the choucroute accompanied by fine wines and great vintages.
Enjoy your meal!
Some of he best restaurants in Colmar
There's nothing like getting to know our best addresses, carefully tested for you, to undertake a beautiful culinary journey in the heart of the capital of Alsace wines:

L'Arpège, organic restaurant (one of our favorites)

€€ French and international cuisine, vegetarian and vegan choices
24 Rue des Marchands
12:00-13:45, 19:00-21:00 (closed Sunday and Monday)
Restaurant Brasserie l'Auberge (our neighbor)
€€ – Alsatian cuisine
7 Pl. de la Gare
11:45-14:30, 18:45-22:30 (closed Sunday)
L'Epicurien
€€ – French Cuisine Refined dishes and an extensive wine list
11 Rue Wickram, 68000 Colmar Téléphone : 03 89 41 14 50
12:00–13:30, 19:00–21:00 (closed on Mondays and Sundays)

Grandmother's casserole
€€ – French
14 Pl. de l'École
12:00-14:00, 19:00-21:00 (closed Saturday and Sunday)
Caveau Saint Pierre Menu
€€ – Alsatian cuisine
24 Rue de la Herse, 68000 Colmar
14:30, 18:45-21:00 Open daily
€ French Cuisine
17 Rue des Marchands
Open daily 12:00-13:30, 19:00-21:00
Jadis and Gourmande
€€ – Alsatian cuisine, tea room
8 place du marché aux fruits
08:00 – 18:00 (closed Sunday)
The Painter's Studio
€€€ – French gastronomic cuisine
1 Rue Schongauer
12:00-14:00, 19:00-21:30 (closed Sunday and Monday)
Restaurant Le Quai 21
€€ – Innovative Alsatian cuisine
21 Quai de la Poissonnerie
12:00-13:30, 19:00-20:30 (closed Sunday and Monday)