Discover the Magic of Christmas in Alsace: A Fairytale Adventure from November 25 to January 6
Alsace, the land of fairy tales, opens its doors for a majestic Christmas celebration, running from November 25 to January 6. This period transforms the region into a magical place that I invite you to discover.
A Unique Christmas Experience
Rhineland tradition gives Christmas in Alsace a special place among the most enchanting times of the year. A soft, warm atmosphere pervades the area, accompanied by the delicate scent of spices and cinnamon. The streets sparkle with superb decorations and illuminations, creating a magical atmosphere throughout Alsace.
Strolling through the charming stalls of the Christmas markets, you can indulge in delicious specialities and comforting mulled wine. Talented craftsmen reveal their skills through delicate creations that make excellent gifts. Everywhere, the streets come alive, encouraging people to meet and socialize in the authentic spirit of Christmas.
An Abundance of Festivities
At Christmas, Alsace is transformed into a veritable paradise of festive entertainment, inviting everyone to experience unique emotions.
There's the emotion of a concert, where voices and choirs warm hearts. The emotion of a gourmet break, where the scents and flavors of Christmas awaken the taste buds. And finally, the emotion of sharing, with tales of Alsatian myths and legends, centered around legendary characters such as Saint-Nicolas, Hans Trapp and Christkindel.
Christmas in Alsace promises a warm and authentic Christmas, a unique experience that I invite you to experience wholeheartedly.
Here you'll find all the practical information you need about Christmas in Colmar, published by the Office du Tourisme.
Pedestrian zone
From November 24 to December 29, the access to the city center of Colmar is closed to all vehicles, in order to facilitate access to the Christmas Markets of Colmar by visitors:
Monday to Thursday: 11 am to 7 pm
from Friday to Sunday : 10am to 8pm
Covered parking lots near the Christmas markets:
PARKING MAIRIE
Monday to Saturday : 07h to 21h
Sundays: 10am to 9pm
24/12 : 7am to 6:30pm
25/12 : 1pm to 8pm
26/12 : 10am to 8pm
No exit possible after 9pm
Timetable of the Christmas Markets in Colmar
November 24 to December 29
Monday to Thursday: 11am to 7pm
Friday, Saturday and Sunday: 10am to 8pm
24/12 : opening from 10am to 5pm
25/12 : opening from 11am to 8pm
26/12 : 11am to 7pm.
Gourmet Market Schedule
Cathedral Square
Monday to Thursday : 11am to 9pm

Friday, Saturday, Sunday: 10am to 9pm
Download the Colmar magazine dedicated to the Christmas period: map and practical information from November 23 to December 29, 2023 for Colmar.com and its region.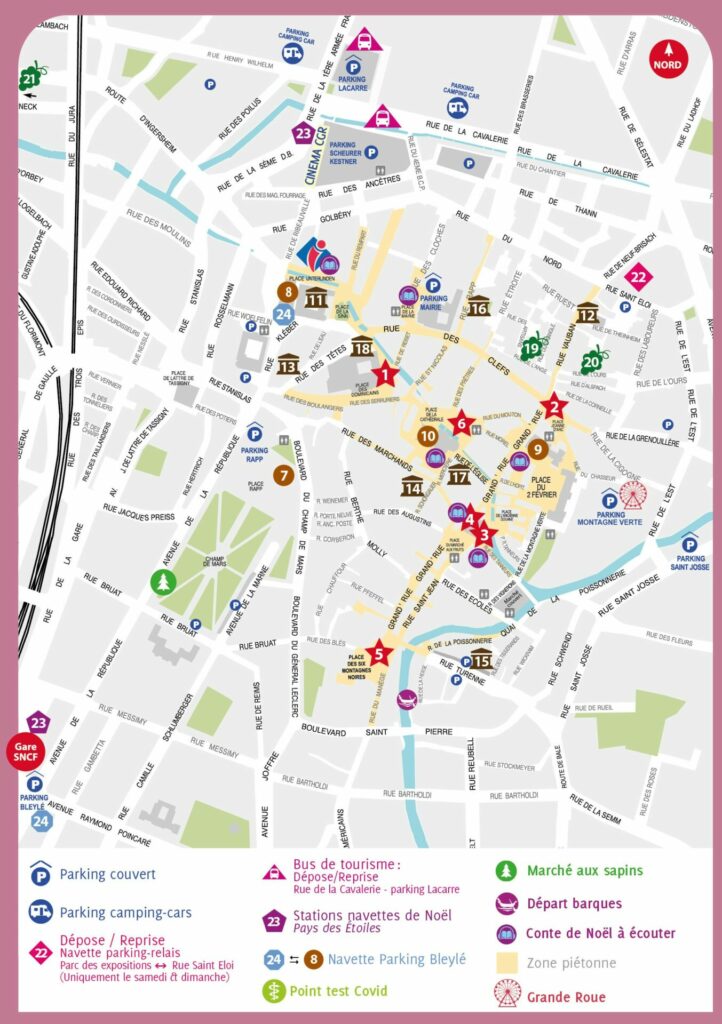 Download the "Christmas Star Country" guide to events and Christmas shuttles from Colmar to the Wine Route: